Red List Training — Online
IUCN, in collaboration with The Nature Conservancy (TNC), has developed an online IUCN Red List training course: "Assessing Species' Extinction Risk using IUCN Red List Methodology". Hosted by ConservationTraining, the IUCN Red List course is free and is available in English, French and Spanish.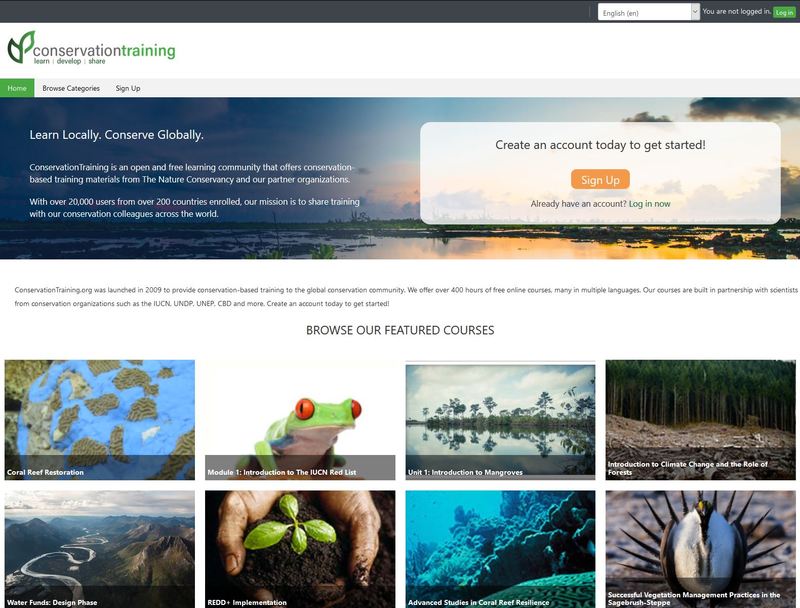 The course covers the following topics:
The course also includes a final course exam (Module 8), which is designed to test your knowledge of the IUCN Red List and your skills in calculating the various parameters used in the assessment process. Passing the exam will entitle you to a certificate to prove that you have successfully completed the course. An Advanced level exam is also available (Module 9) for Red List Trainers and people involved in managing assessment projects.
Please note that the final course certificate is not a professional qualification. To become a successful IUCN Red List Assessor you will need to use the knowledge gained from the course to complete Red List assessments and have these accepted for publication.
Getting Started
The courses hosted on ConservationTraining.org are available free of charge, but you do need to create a user account to take the courses (this is also free). If you do not already have a user account for the ConservationTraining website, go to the website home page (https://www.conservationtraining.org), open the Sign Up page and click on "Create a new account".
Preparing IUCN Red List assessments requires comprehensive knowledge on the application of the IUCN Red List Categories and Criteria, to ensure that assessments are conducted according to scientifically underpinned and exacting standards.
This process differs slightly depending on whether you are a Global Assessor assessing the global extinction risk of species for publication on the IUCN Red List, or a Regional Assessor assessing species' subglobal extinction risk for a regional or national Red List.
Global Assessors: Please complete modules 1 to 6. Module 7 (regional assessments) is optional, but is important for assessing subpopulations within a species.
Regional Assessors: Please complete modules 1, 2, 3 and 7. Modules 4 (supporting information), 5 (mapping standards) and 6 (SIS) are optional, but are important if you intend to submit endemic species assessments for publication on the IUCN Red List. Modules 4-6 are also required if you are working on an IUCN-led regional assessment project.
We advise you to take modules 1-3 in order. Once you have completed modules 1-3, the other modules can be taken in any order.
External Link